Fall is in full swing and the leaves are changing. Walking through Central Park as the leaves change is one of the most beautiful things you can see. But do you ever just miss seeing the leaves, pumpkin patches, sunflowers, corn mazes etc.? Here is a list of some not so far away getaways from New York that will make your weekend a total Fall Hallmark Special from Timeout New York!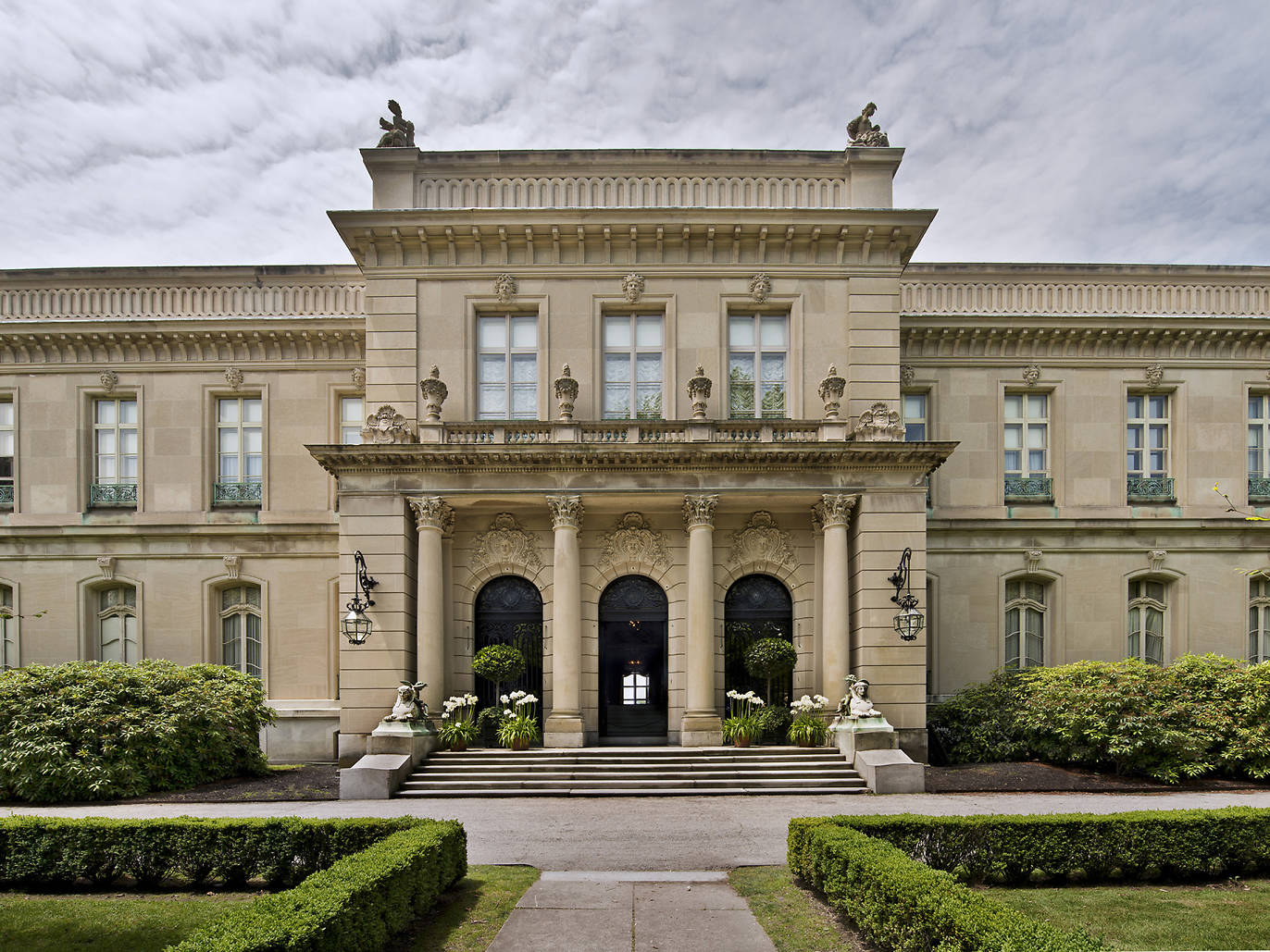 (Newport, RI)
Catskills, NY
Forever cemented in pop-culture as the site of Woodstock (and the backdrop of Dirty Dancing) the Catskills boasts some of New York's most charming small towns, many of which are just two-and-a-half hours outside of the city.

What to do: A hiking trail on Overlook Mountain leads to the Instagram-worthy remnants of an unfinished luxury hotel and views of Echo Lake. The General Store of Catskill (356 Main St, Catskill; 518-653-9188, thegeneralstoreofcatskill.com) is another draw, located on the town's historic Main Street and offering an array of locally-made bath, body and wellness products.

Where to stay: It'll be hard to return to your NYC apartment after a few nights at Table on Ten (52030 NY-10, Bloomville; 607-643-6509, tableonten.com). The three-room inn is also a restaurant, serving wood-fired pizzas Friday and Saturday nights
Lenox, MA
Once known as the "inland Newport," this charming town in The Berkshires was a popular destination for wealthy vacationers during the Gilded Age. The walkable New England hamlet still attracts plenty of discerning travelers today with loads of cultural options and a prime location for leaf peeping around the region.

What to do: Take a trip back in time at the gorgeously restored The Mount (2 Plunkett St, Lenox; 413-551-5111, edithwharton.org), the turn-of-the-century home of famous American novelist Edith Wharton. Shakespeare & Co (70 Kemble St, Lenox; 413-637-1199, shakespeare.org) is a premier regional theater that continues its popular summer season through the autumn months.

Where to stay: You may want to spend more time looking at the chic décor at 33 Main (33 Main St, Lenox; 413-400-3333, thirtythreemain.com) than the vibrant leaves outside. The brand-new bed-and-breakfast was entirely designed by Annie Selke and a majority of the furnishings are available for purchase across the street.
Stowe, VT
When it comes to fall foliage, Vermont is king. The state has the country's highest percentage of maple trees, and no better retreat exists for scoring that color-bursting seasonal photo. That's especially true in Stowe, a valley town in Northern Vermont.

What to do: Marvel at rust-tinged leaves from a car (foliage driving routes are an actual thing here), a gondola at Stowe Mountain ski resort (5781 Mountain Rd; 888-253-4849, stowe.com) or on foot: The three-mile Stowe Pinnacle Trail—4 miles southeast of the town—is one of many climbs with breathtaking views. Follow the state's foliage tracker (vermont.com/foliage.cfm) to ensure leaves are at peak awesomeness when you go. After that hiking, you deserve a bit of shut-eye.

Where to stay: Stowe's hallmark hotel might be the Trapp Family Lodge (yes, named for that do-re-mi family you're thinking of), but for a more upscale option, tuck into the recently opened Field Guide (433 Mountain Rd; 802-253-8088, fieldguidestowe.com; $189–$639/night), which has a Scandinavian feel as well as fire pits and a complimentary breakfast basket delivered
Northfolk, LI
South Fork is so last season. Instead, skip it for Long Island's North Fork this fall, where the bucolic coast is just warming up. Without traffic you can make it to this venerable stretch of farms and vineyards in a hour and a half. Bring your taste for Chardonnay and Pinot Grigio.

What to do: Winery tour options abound here, so take your pick! Sample Merlot at One Woman Wines and Vineyards (5195 Old North Rd, Southold; 631-765-1200, onewomanwines.com), try Coffee Pot Cellars' sauvignon blanc (31855 Main Rd, Cutchogue; 631-765-8929, coffeepotcellars.com), or sip on something bubbly at Sparkling Pointe (39750 Middle Rd, Southold; 631-765-0200, sparklingpointe.com). No judgment if you decide to hit up all three.

Where to stay: North Fork is perfect for a day trip, but if you want to extend your stay, tap Arbor View House B&B (8900 Main Rd, East Marion; 631-477-8440, arborviewhouse.com), known for it's plush garden and gourmet breakfast, as your relaxing home away from home.
Salem, MA
This Massachusetts town's dark past draws urban witches and history buffs from all over the Northeast. With so many museums, attractions and tours devoted to the infamous Salem Witch Trials, there's plenty of creepy history to explore in the otherwise charming village. Even better, it's surprisingly easy to get to: Just take the short flight into Boston and rent a car for the hourlong drive east to Salem.

What to do: Dive right into the town's paranormal history at the Salem Witch Museum, where exhibits on paganism, modern witchcraft and the phenomenon of witch hunts will give you a quick primer on the occult.

Where to stay: Though Boston is just an hour away, stay the night in Salem to amp up the spooky vibes. The historic Hawthorne Hotel (18 Washington Square W, Salem; (978) 744-4080) is fairly young by New England standards—it only opened for business in 1925—but has still had its fair share of reported hauntings. Rooms 325 and 612 are particularly notorious, with guests reporting ghostly apparitions, faucets turning on and off, glowing orbs and all kind of other things that go bump in the night.
Newport, RI
It's all about classic, New England culture here, complete with historic places like White Horse Tavern (America's oldest restaurant) and a bevy of briny bivalves.

What to do: Newport is home to some of the most impressive, ridiculously elegant mansions in the nation. The Preservation Society of Newport County, Rhode Island's largest cultural organization, has 11 historic properties and landscapes on its register (newportmansions.org). Take a trip back in time from the colonial era to the Gilded Age by walking in the footsteps of some of America's most historic elite. If you only have time for one, make it the Breakers, the grande dame of Newport's elite homes, boasting 70 rooms, a man cave mostly made of gold and stories galore. (Cole Porter used to pen hits in one of its upstairs, luxe bathrooms.) You can peep at multiple mansions located in this seaside town during this fun and informative Newport Gilded Age Mansions Trolley Tour.

Where to stay: The Attwater (22 Liberty St; 401-846-7444, theattwater.com, $200/night), a funky hotel with a modern design, pays homage to Newport's seafaring history with nautical accents and varying shades of bold blues, while other touches like throw pillows, flowers and drapes scream out in bright purples, greens and reds. The kitschy beach house meets luxury boutique has tech-friendly features like iPads, Keurig coffeemakers and iPod docks. Its proximity to Newport Art Museum makes it appealing to city slickers looking for that New England escape complete with creature comforts.
Sources:
https://www.timeout.com/newyork/travel/best-fall-getaways-from-nyc